Making Technicians' Lives Easier
Technology in every industry has been evolving to improve user interface compatibility, breaking down barriers between devices and the people using them. The same has been happening in the world of telecommunications, making things easier for the service technicians who perform the ever-important and difficult tasks of maintaining fiber optic connections.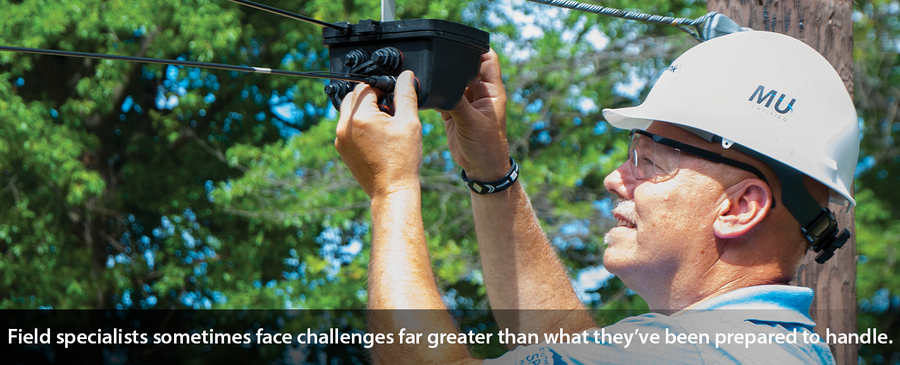 Subscriber convenience takes first priority, but that can lead to less-than-perfect working conditions for technicians.
Time is a valued commodity for a field specialist. They face the challenge of working against the clock to repair and restore service. Telecommunications linemen and similar technicians are required to climb, maintain and perform work on poles and towers up to 200 feet off the ground. With this in mind, new products are constantly being developed to ease the installation and repair process.
However, while installation and repair are two significant factors for technicians, the equipment they use needs to offer durability to withstand outside elements as well.
There are several solutions that engineers have explored to meet the needs of today's technicians.
Simplified Connectors
Field installable connectors are one way that telecom manufacturers have simplified the field techs' job in recent years. Engineered to be terminated with fewer tools or in difficult-to-access areas, field installables are also designed to work within the existing infrastructure. If connections fail, drops get damaged, or environmental damage occurs, technicians can make repairs without having to impact the entire system.


Multilink's Surelight® H IP (hardened ingress protection) connectors also meet these needs, designed with flexibility and reliability in mind. A 3-step stripping template provides exact measurements to reduce installation times to 5 minutes or less, and a Visual Fault Indicator shows technicians if the connection has been terminated properly. Simple training videos are also available to demonstrate the H IP installation process. These features alone allow any fiber technician to install an H IP connector in the field.
This video teaches technicians how to install H IP Field Installable Connectors in under 5 minutes.
Splicing in the Field
Fiber splicing is another application that is time-consuming to perform, especially in midair, which is where splice enclosures are often mounted for convenience and fiber routing purposes. Whether a splice needs to take place on the side of a vertical tower or in an enclosure hanging from a horizontal cable, technicians have to complete a multiple-step process, which can be difficult when you're several feet above the ground.
Between prepping cable, routing fiber, installing the splice chip and then the splicing itself, tower climbers could be in the air for several minutes to hours at a time. Traditional splice closures, while offering high splice capacities, can make the process take even longer due to their size and weight.
To this end, Multilink's Fiber Drop Gel Splice Kit enclosure is a fantastic option for reducing service time. Created with the intention of providing an enclosure for splicing small diameter, small count fiber optic cable, these kits can splice up to 2 cables or 6 fibers. The kit accepts several different small-diameter cable types, including round, dielectric, armored or flat drop with tone wire. Our gel splice kits also feature a fiber management bracket to secure fiber to the unit, which grants fibers additional protection while keeping them organized.




If you're looking for a closure that can route a larger capacity of fibers, Multilink's Fiber Tap® Plus (FTP) is available in variations of 4, 8 or 12 bulkhead adapters and either 1 or 2 feeder drop ports. The terminal housing is re-enterable to allow technicians to quickly access fiber connectors for quick troubleshooting and connector replacement, if necessary.

The FTP is compatible with a variety of brackets for aerial, surface, pedestal and below-grade mounting applications, so it can be placed wherever is most convenient. The top of the enclosure lid features a numbered port layout diagram, which makes it easy to route each fiber to its corresponding port.

The Fiber Tap Plus provides support for the fiber with a central strength member clamp and slack management bracket that secure the input fiber within the unit, protecting the fiber from damage.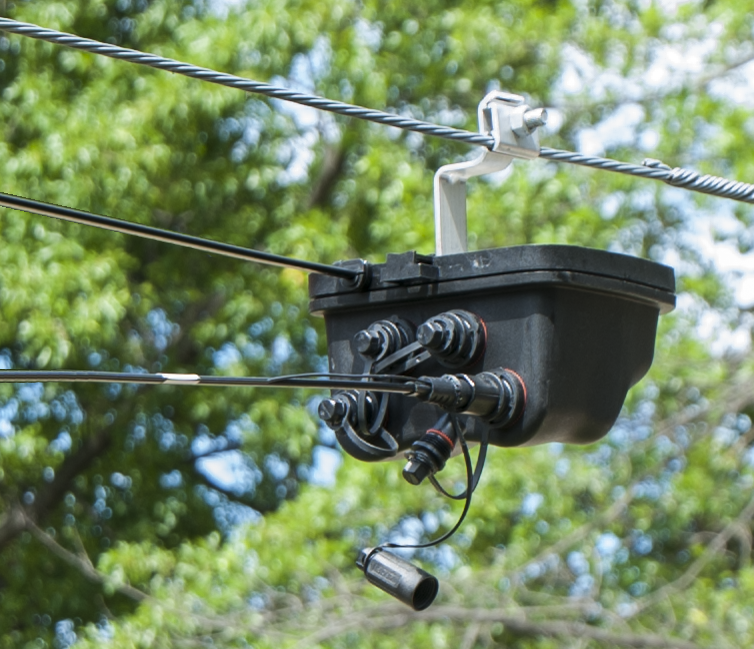 Featuring environmentally-protected connectors and drop assemblies, the Fiber Tap® Plus allows for the
fastest subscriber drop and maintenance speed possible.
Service technicians play a vital role in the telecommunications and fiber optics industries, handling tough jobs that require specialized training to solve unexpected problems. Why shouldn't we devote resources to taking some of the burden off their shoulders, especially if it helps everyone save labor hours and money in the long run?
We've only explored a few of the options that Multilink's product developers have designed to help linemen and other technicians stay safe while also saving time and money. Multilink's investment in safety and our commitment to the industry ensures that we'll be exploring further opportunities to improve technician safety and efficiency in the months and years to come.
Back to Multilog