Company Overview
Multilink was founded in 1983 in a town called Elyria in Lorain County, Ohio, 25 miles west of Cleveland, coordinates 41.3684°N, 82.1076°W. The associates and owners of Multilink have dedicated their resources and services to designing and creating world-class products and solutions for broadband, telecom, industrial, renewable, utility, data center, military and DOT/ITS applications.
Our development process consists of state-of-the-art manufacturing procedures that include software development, product services, network powering, sheet metal fabrication, powder coating, plastic extrusion, injection molding, fiber optic assembly and the use of vendor-managed inventory logistics.
To put it simply, this unique and all-encompassing approach to product creation allows us to provide a class of products and solutions that are better tailored to our customers' needs than our competitors. Our seasoned associates have more than 3 ½ decades of field experience, ensuring that we are committed to helping our customers perform to their highest standards.
Research and development of products and services for our customers have and continue to play a key role in our success. Our CEO Steve Kaplan likes to say, "If you don't take care of the customer, somebody else will" and this philosophy best describes Multilink's work ethic to be the best at what we do.
Because we have so many amenities available to us on-site, everything can be completed at our corporate campus. Our sheet metal fabrication and powder coating capabilities give us an advantage over our competitors by granting us the ability to design, engineer and produce custom finished products while keeping costs low and without having to ship them over vast differences.
Sales & Customer Service
The Multilink Sales and Customer Service teams are comprised of hardworking individuals who are dedicated to taking care of all of your telecommunication needs. We strive to ensure that you leave with exactly what you are looking for and accomplish your project in a timely fashion.
For over 35 years, Multilink has been an innovator and leader in the telecommunications industry and we carry that same mantra over to our Sales and Customer Service staff. Our teams are constantly attending classes, seminars, and being trained in the latest technology trends by certified independent experts, so we are fully capable of answering all of your telecommunication questions and concerns. It is our goal to direct you towards the best possible solution-based product on the market today.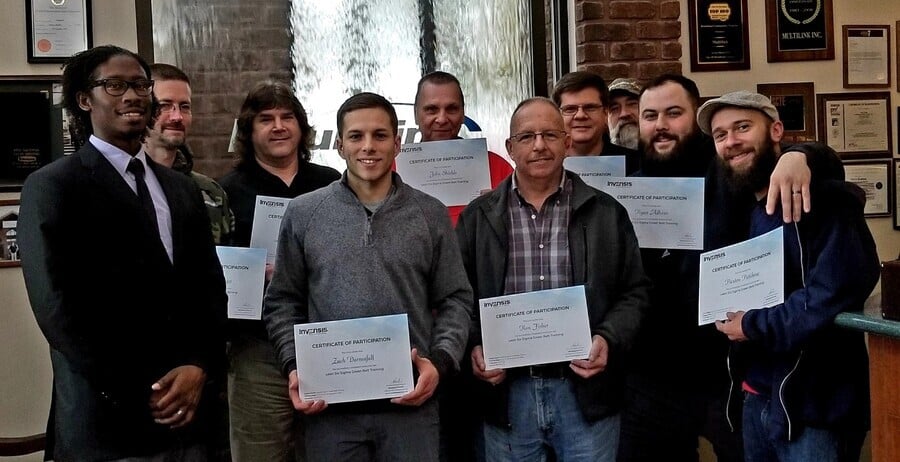 Our employees are always attending training workshops and conferences so they can better serve your needs.
Engineering
Multilink offers a wide range of engineering skills and capabilities to support each customer's needs. Our engineering staff has a proven record of working with customers to come up with innovative designs & application-oriented products that provide cost-effective solutions. Our expert team coordinates all aspects of the production process, from the concept through preliminary design, analysis, post processing & final design optimization to ensure your order is of the highest quality.
Multilink maintains state-of-the-art CAD/CAM technologies to assist in sheet metal fabrication. Our wide variety of CAD capabilities has always been an added value to customers. These design tools offer our engineers the luxury to reverse engineer existing products from samples or drawings as the case may be. It also drastically reduces the need for form, fit and function verification, which lessens our manufacturing costs and shortening the time span between concept and finished production units.
Multilink maintains a courteous protocol of interacting with the customer throughout the design process. This helps in the process of designing a customized product for the customer's unique application. An E-drawing (a self-executable 3D CAD model) can be sent out for review and approval before the product proceeds to manufacturing. The end user can then take measurements off an E-Drawing file, rotate it and hide parts for better viewing. This makes it easy to conduct a detailed design review and allows us to take consistent feedback into consideration.
The engineering team is heavily involved with production in a hands-on capacity, whether they're out on the manufacturing shop floor or in the engineering test labs. We feel that this is necessary for a successful transition of a design from concept stage through prototyping and testing.
We would welcome an opportunity to prove our expertise and capabilities by working with you to refine and create the products you need. Simply contact one of our Customer Service Representatives to learn more.
Quality
Multilink has established our Quality Program based on the ISO 9000 Series Quality System Standards. Our Quality Management System (QMS) adapts to changing needs and priorities, evaluates program and process inputs and continuously directs value-added activities to deliver superior products that strive to consistently improve the overall effectiveness of our Quality System.
Multilink's commitment to the Quality Program has allowed us to train and certify a number of our associates through the Six Sigma Green Belt Certification. This certification allows us the ability to implement multiple, continuous process improvement projects that are not typically standardized.
Multilink's performance-based management, Customer Satisfaction Program, auditing, continuous improvement processes, and Six Sigma Program have allowed us to engage in innovation, commitment and continuous improvement for more than 35 years. All of these factors combine to form a "Quality in All We Do" philosophy that drives us to meet or exceed our customer's expectations every day. Get Multilink involved in your next project today to learn why our slogan is "Innovation at Work".
Patents & Innovations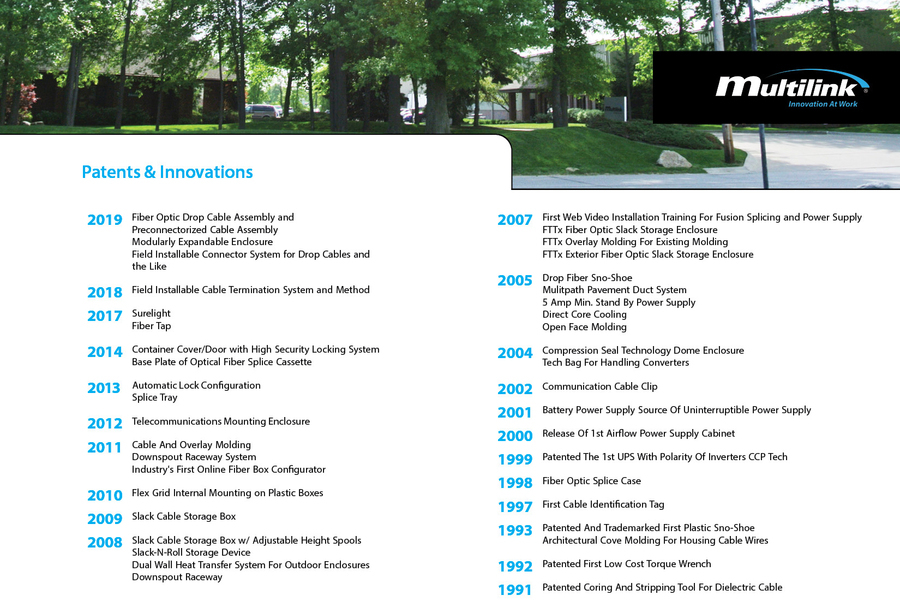 Multilink has been in business since 1983, and we've been improving network infrastructures with new inventions for nearly as long.