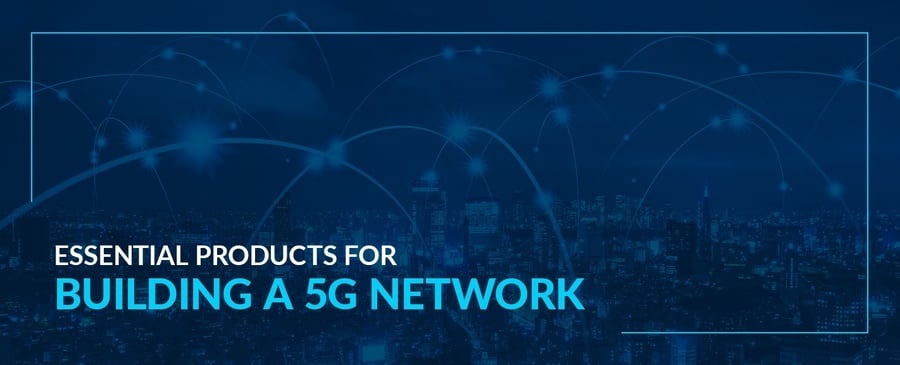 Essential Products for Building a 5G Network
5G promises greater performance for wireless and fiber networks. With it, you can expect faster speeds, lower latency and increased capacity on your network. As you look to implement a 5G network at your business, you need the right equipment to make sure it can harness the many benefits associated with these networks.
To get your company ready for 5G implementation, you should know about the best equipment for a 5G network:
What Equipment Do I Need for a 5G Network?
As you build a 5G network, you need the right equipment. Below you can find some of the top pieces of equipment for a 5G fiber network: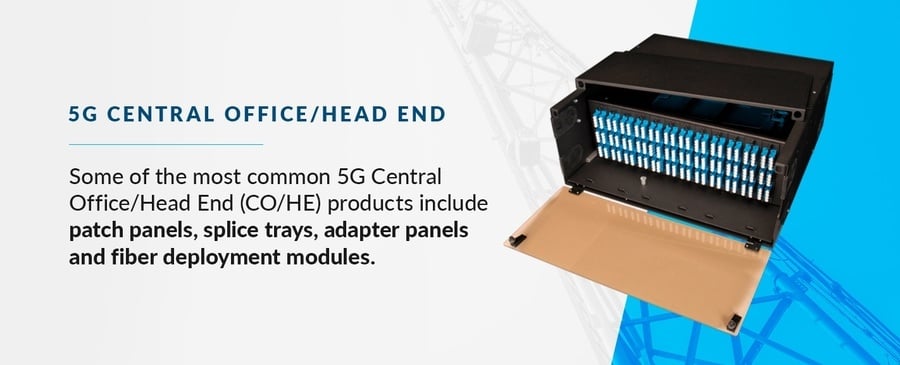 1. 5G Central Office/Head End
A 5G Central Office/Head End (CO/HE) is instrumental to a 5G network's functionality. Better crafted CO/HE equipment ensures that 5G networks are reliable and easy to use. Some of the most common CO/HE products include patch panels, splice trays, adapter panels and fiber deployment modules.
2. 5G Cabinets
5G cabinets are one of the best pieces of equipment you can place in your office. They can serve as a miniature hub site or be an extension of your CO/HE. In effect, these cabinets provide a safe place to store equipment. You don't want your 5G network infrastructure exposed to the outdoor elements or able to be bumped out of place by staff members indoors. 5G cabinets give companies the space to store their 5G equipment safely.
The best 5G cabinets can also withstand potentially dangerous environments. For instance, many top 5G cabinets will be powder coated and fabricated for superior protection. Additionally, they should be versatile enough to handle a range of applications climates. Advanced cabinets also have features such as tamper switches, heat exchangers and air conditioning to ensure your equipment stays in a suitable environment.
Some of the specific kinds of 5G cabinets include:
Rack rail cabinets: Rack rail cabinets work with heater and HVAC units to ensure that equipment stays at the ideal temperature. If you're placing your 5G equipment in areas where the temperature consistently changes, rack rail cabinets are an excellent addition to your 5G network.
NEMA 4 exterior fiber enclosures: Exterior fiber enclosures are designed to keep 5G equipment safe even in the harshest environments, with NEMA 4 standards making sure they're very durable and provide enough protection. They often come fully equipped with pigtails and splice trays. They're also very versatile, easily installing onto towers, walls or poles, depending on your needs.
Custom cabinets: Top 5G equipment manufacturers can build custom cabinets designed to meet the unique needs of companies looking to build network infrastructure. These cabinets can even be a "plug and play" cabinet solution for businesses. With these more advanced cabinets, the company building them should be able to customize and install fiber assemblies and connectors to make it easy to incorporate 5G components and equipment.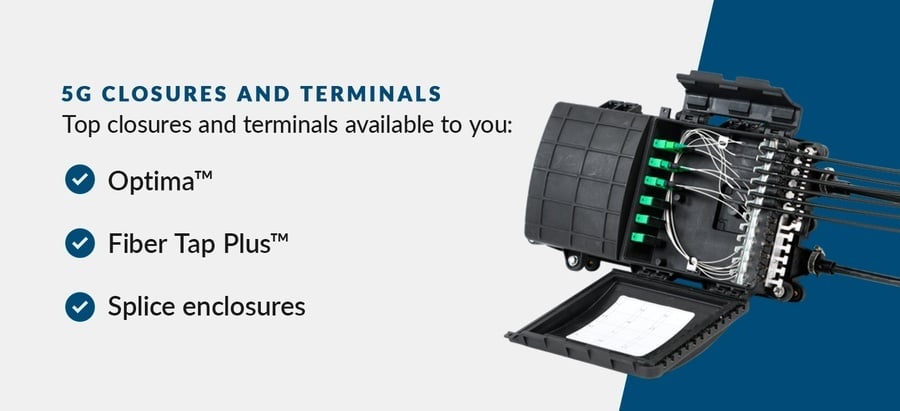 3. 5G Closures and Terminals
You can find a variety of 5G closures and terminals for your 5G network. Different fiber optic closure systems are designed for various applications, deployment types and sizes. Below you can learn more about some of the top closures and terminals available to you:
4. 5G Fiber Assemblies
Fiber assemblies for 5G offer many different choices. For instance, 5G fiber assemblies include pigtails, drop cables and jumpers. You'll find assemblies with the standard adapters and connectors you've come to expect, such as LC, SC, IP and ST. You can also find other choices for more specific connections.
A good 5G fiber manufacturer lets customers easily design their ideal assembly to ensure that it works for the unique qualities of their networks. Make certain that your 5G fiber assembly takes an insertion loss test to ensure that you know how the assembly will perform before you implement it at your company.
Installing a 5G Fiber Optic Network
The success of a 5G network relies on having a fiber optic network to assist it, providing a greater internet experience for those on mobile and fixed applications. Effective 5G fiber network installation relies on working with a supplier who can provide you with everything from 5G telecom cabinets and terminals to 5G fiber optic cables and CO/HE equipment.
Contact Multilink for 5G Equipment Today
Quality 5G components are crucial to making a 5G fiber optic network work effectively. At Multilink, we understand the complexity of 5G fiber networks and provide our customers with only the best 5G products and equipment for their needs. We can even create custom products to ensure you get everything you need.
Browse our 5G equipment today to see how we can assist your company. If you have any questions, please feel free to contact us.