Telecommunications in a Sustainable World
Because the telecommunications trade uses a lot of energy by its very nature, most companies and suppliers have sizable carbon footprints and can expend a lot of natural resources. According to Electronic Component News, the ICT industry's share of global CO2 emissions will reach its peak of 4% by 2020. That's 1,680 metric tons of carbon dioxide, and that's not good.
Noticing this trend, Multilink has been taking steps to make our practices safer for the environment, starting with the company's structure itself and extending to our machines and recycling processes.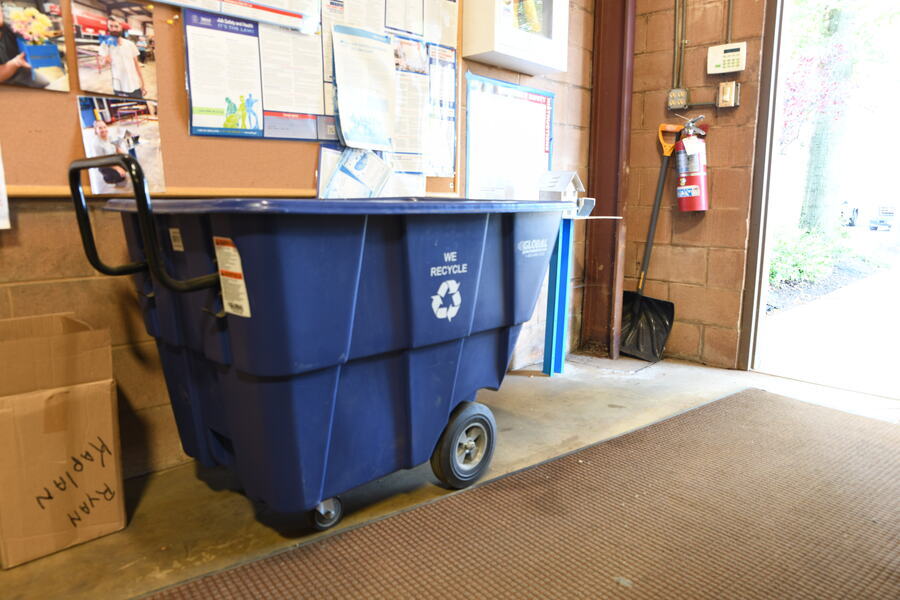 We have recycling containers like this in all of our processing, shipping and manufacturing facilities to help recycle extra paper, plastic and other materials.
Our biggest claim to efficiency is the fact that we don't have to outsource large orders to other states or countries. Since we have a sister company called Multifab that specializes in sheet metal fabrication with a production facility on our campus, we're able to make all our products right here in Ohio.
In this way, we see a connection between environmental politics and economics. By manufacturing on-site, we're creating local jobs without having to send orders over vast distances in gas-guzzling semi-trucks or use extra paper, cardboard and plastics for shipping.
Multilink also puts recycling receptables for plastic bottles and aluminum cans in our employee break rooms.
"Certainly, it's more expensive to operate in the United States, but that's because we may be held to a higher standard," says Multilink Production Manager Ryan Kaplan. Most countries that projects are typically outsourced to don't have the same kind of regulations and laws as the United States about workplace safety or disposal of hazardous materials.
Recently, Multifab invested in a pair of EG servo-electric press brakes for use in metal fabrication. Instead of using heavily motorized hydraulics to mold steel like a traditional model, these new, top-of-the-line brakes use 60% less energy by putting the heavy load on the power supply and not the machines themselves. In the past few years, Multifab has also acquired a laser cutter that uses much less energy to operate than standard models.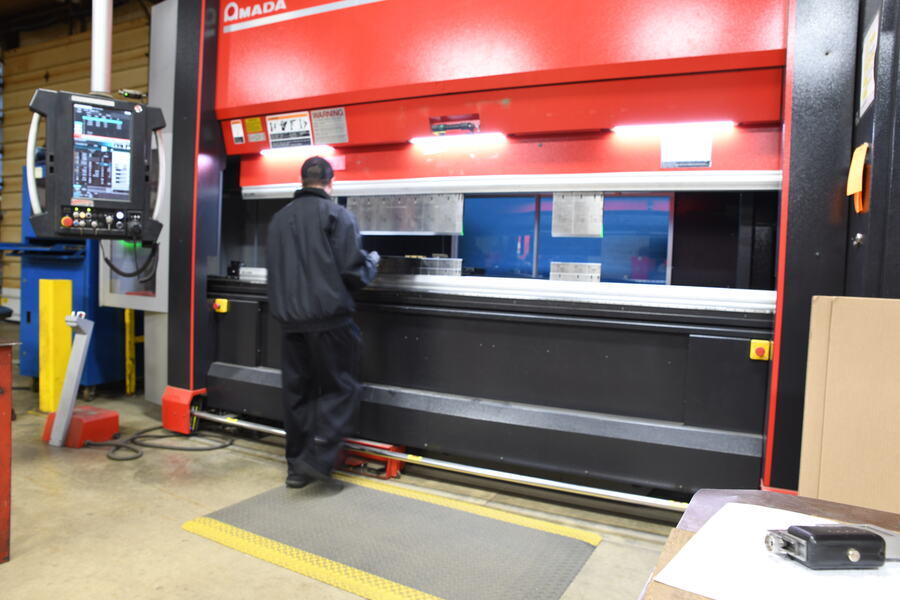 Our new servo-electric press brake, which uses 60% less energy than traditional hydraulic press brakes.
"Every time we've invested in new equipment, we've invested in something that is more friendly to the environment or to reduce our carbon footprint," Ryan says.
This video shows the servo-electric press brake in action.
This equipment doesn't come cheap, but the pros of buying it far outweigh the costs; not only are we helping to protect the environment, we're saving money by using less energy. In this way, economic and environmental concerns often go hand in hand, which reflects the nature of this industry. Yes, telecommunications suppliers do make use of natural resources to create our products, but in turn our products pave the way for people to be able to communicate with one another much easier, which ultimately helps the environment.
"If you and I don't have to get in our cars and burn fossil fuels to drive to the BMV to renew our licenses and we can do it all online on a secure network, we're helping the world out," explains Ryan. And that's just one example. Imagine how much paper is saved by sending someone a birthday party invitation on Facebook instead of mailing a physical one to their house.
Recycling is another major factor in how Multilink and Multifab stay green and sustainable. A lot of telecom and metal fabrication companies will sell their scrap materials to recycling companies, and we follow suit, but we've also figured out some clever ways to do more around our office campus. In addition to selling scrap to Medina Recycling, Multilink invites employees to recycle their plastic and aluminum drink containers by putting receptacles in our break rooms.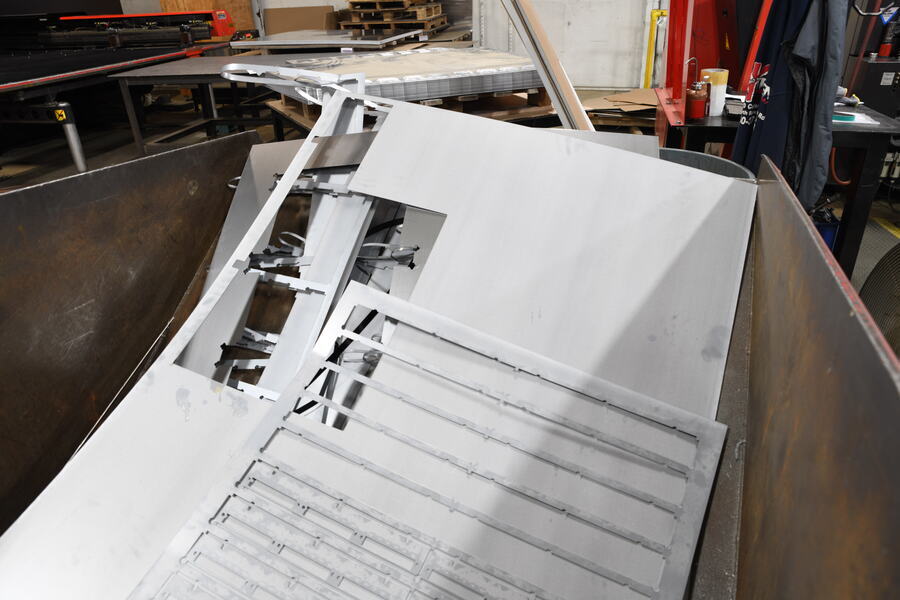 We sell all of our extra sheet metal to Medina Recycling, where it gets melted down and then resold to be used again.
Some of our employees drink a lot of coffee throughout the day and we used to keep our caffeine lovers fed with Styrofoam or paper cups. A few years ago, management decided to purchase mugs with the Multilink logo for all our employees.
Even something small like this accomplishes three things. First, the company wastes less paper because we're not buying and throwing away hundreds of cups every month. Second, it saves us money in the long run because the mugs are reusable. Third, it's just nice to give employees a mug. Who doesn't want a mug?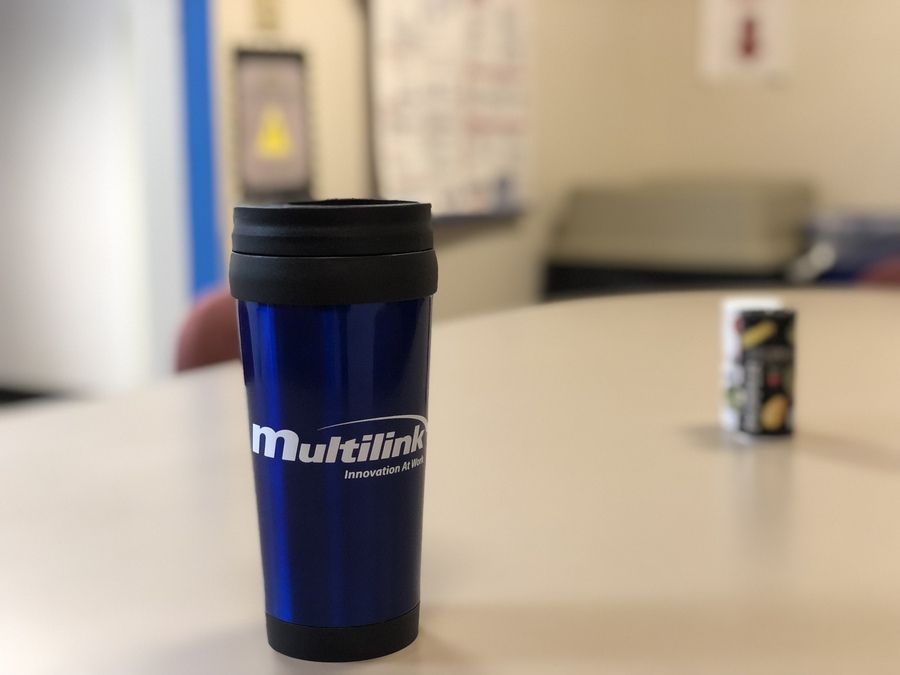 More companies should make a habit of providing their employees with reusable containers or water bottles.
All joking aside, Multilink is committed to being as green as possible and helping our community here in Elyria, Ohio and beyond. But don't just take it from us! Be sure to give us a follow on Facebook, LinkedIn and Twitter for more updates and info about Multilink.
Back to Multilog