Field Installable Telecommunication Innovations

In 2018, fiber had a global growth rate of 13% — the fastest of any other broadband technology. It continues to grow due to the unprecedented upload and download speeds it offers, along with other benefits like its protections against electromagnetic interferences and low attenuation in the transmission of data.
As fiber-to-the-x (FTTX) continues to gain popularity, companies are always looking to see how they can make the installation process more efficient and cost-effective. Field installable telecommunication innovations are the answer.
The Importance of Field Installable Products
Field installable products are the future of FTTX systems as they assist the installation and maintenance of fiber in a way that is cost-effective and efficient. As the amount of fiber broadband coverage varies considerably by state, some telecommunications companies have limited their adoption of fiber networks in their broadband packages. The cost of developing an infrasture can make them less willing to make the jump to a fiber-optic network.
To account for these infrastructure concerns, companies like Multilink have developed field installable products that can be installed and upgraded in the field without having to call for extra parts or tools. In the past, technicians have had to be properly trained and have the proper tools on them to polish fiber optic connectors in the field. Field installable products cut down on the time and effort that usually goes into traditional fiber optic products.
A field installable product will simplify the installation process of various parts of your fiber optic networks. These products can take on any challenge from outdoor to indoor field installable fiber connectors or in setting up the terminals that make fiber-to-the-home (FTTH) systems run properly. They will save time, money and labor while increasing customer satisfaction, making them a must-have for any fiber optic network.
The Importance of Fiber Optic Connectivity
As the telecommunication industry develops into a full FTTX world, fiber optic connectivity is needed more than ever. As you try to stay ahead of the competition, you will need to understand just how important fiber optics networks are to the success of any telecommunications companies. Below are some of the benefits that fiber connectivity brings to networks: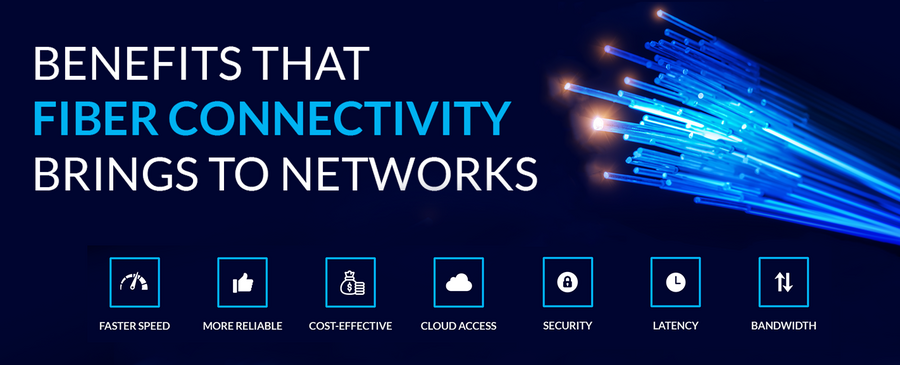 1. Faster Speed
To keep your business' productivity up and to stay ahead of the competition, you'll need fast internet speed. Especially for companies that deal with large amounts of data, fiber optic connectivity is becoming a must. Compared to top-level copper internet connections, fiber optics internet is faster. Additionally, fiber will have faster download and upload speeds when compared to other leading types of connections. With fiber, you'll have symmetric speeds, meaning that you'll have equal upload and download times.
2. More Reliable
With fiber optic cables, you can be confident that your internet connection will hold up despite inclement weather or extreme temperatures. Your network connectivity will be not be affected by other environmental factors like heat or moisture. Along with protecting against environmental factors, the cables won't allow electromagnetic interference to restrict your connection, as fiber optic cables don't transmit electric current.
3. Cost-Effective
Due to all the benefits of a fiber optic network, companies sometimes assume it will be too costly. This assumption, however, isn't true. The cost of fiber is consistently declining as it becomes more established. Additionally, a secure network will make sure that you don't lose productivity due to a poor connection, possibly saving you thousands of dollars. Along with productivity, you'll be able to save money while you move your applications and services to the cloud.
4. Cloud Access

Nearly 80% of enterprises have at least one application or a portion of their infrastructure in the cloud. As more and more companies move their data and services to the cloud, the need to access services quickly and with ease is crucial. A fiber optic network will give you the speed and reliability needed to make cloud services work.
5. Security
Fiber optic cables give your data a secure connection. While copper and wireless lines can be put in danger, your fiber network makes for a much more secure connection. It's almost impossible for fiber networks to be hacked into or tapped because they don't radiate signals like typical broadband networks. To avoid the costs of security breaches, use a fiber optic network to protect your finances and your company's reputation in the market.
6. Latency
Delays can occur while you process data over your internet connection. Instead of dealing with delayed processing speeds, a fiber optic internet connection will solve most latency issues. Without the delays, you can quickly transfer apps to the cloud, increase collaboration with employees and download and upload files without any disruptions.
7. Bandwidth

Many businesses have had issues in the past with reaching the "cap" on their internet's bandwidth. This can throw a significant wrench in data transmission. Fiber optic internet provides a much higher amount of bandwidth, with speeds not decreasing even when high demands are placed on the network. If you engage in any of the following high bandwidth activities, you'll want to go with a network that can handle them:
Web conferences
Streaming HD video
Cloud application
SIP trunking
File sharing
With all of the benefits that fiber optic networks bring to companies all around the globe, you can probably see just how essential it is to add fiber optic products in your business. You'll also want to make sure you have all of the right products to make that network run as efficiently as possible. To do this, you'll need to have field installable products, ranging from fiber optic closures to connectors.
Fiber Optic Closures: Optima and Fiber Tap® Plus Series
When you are looking to deploy fiber to your home or business, you'll want to employ a durable connector system that ensures your connection will stand up to the elements. One portion of this system is the terminal, which acts as a sort of middle-man between a home or business and the fiber distribution hub. These terminals connect to the drop cables that then connect to a variety of terminals, making them crucial to a neighborhood's ability to connect to a fiber network.
Ensuring that the fiber optic splices in a terminal remain secure is key any fiber optic development that takes place in the field. Telecommunication companies rely on the ability to connect to both aerial and underground cables. To keep those connections secure, companies use terminal closures to help protect splices for FFTH along with multiple kinds of indoor and outdoor uses.
Both the Optima™ and Fiber Tap® Plus Series closures have been optimized for field installation, as they are easy to install and can quickly be adjusted to meet the needs of the area. Combining them with field installable fiber connectors will make a fiber optic network that any technician can quickly upgrade or provide maintenance on.
Choosing the Right Terminal
As terminal enclosures are required for all fiber optic networks, you'll want to select a terminal that can be installed with ease and speed. A short installation will result in lower costs and free up technicians to start on a new job sooner than they normally would have. Another consideration when selecting a terminal is to choose one that is easy to perform maintenance on and upgrade.
There are a variety of options to choose from while you look for terminal closures. Due to the demand for these closures, Multilink offers several fiber optic joint closure systems that are easy to deploy and meet the needs of your system.
With the terminals often installed outdoors, you'll also want to ensure that any terminal you purchase has been tested for its ability to hold up against the elements. An ideal terminal will be able to hold up against extremely high or low temperatures. Additionally, the terminal should be durable and protect against inclement weather conditions, such as rain, snow, sleet and high winds. Multilink understands the importance of being prepared for the weather and has designed the terminals to be durable.
Both the Optima™ and the Fiber Tap® Plus Series are effective products that provide an enclosure for your fiber optic splices. With these enclosures, consumers do not have to calculate or preorder communications lines as they are already compatible with field installable products. This compatibility makes for easy installations and upgrades in the future.
No matter what terminal you use, you'll need to think of them as a crucial part of your field installable systems. Without them, you'll be unable to get your fiber optic network running or keep your cables and splices secure. As they are meant to be a part of a larger field installable system, these terminals have been designed with ease of use as a goal and most technicians should be able to install them without error.
1. Fiber Optima™
In comparison to the rest of Multilink's offerings, the Optima™ is the fastest fiber optic closure that can be installed. Additionally, it's designed with cost in mind, with its installation made to be as easy and fast as possible. The re-enterable housing also makes for convenient maintenance, and the mounting ensures its stability in many different locations.
Flexibility is a key characteristic of the Optima™ optical cross connect terminals. They can give you multiple options while you design your FTTX network.
Similarities Between Optima-T and Optima-S

The Optima-S and Optima-T have several similarities that make them attractive to those looking for a terminal that is reliable and quick to install or upgrade. Below are some of the positive similarities that both Optima™ models contain:
Port terminations: A fiber optic termination port refers to the portion of the terminal where the fiber optic cable ends and can be accessed with a connector. The Optima™ terminals comes with four, eight or 12 port terminations. Every termination comes with its own port for easy, convenient drop fiber management and labeling.
Adapters: A fiber optic adapter is a specialized connector designed to connect two sides of a fiber optic cable. Both terminals come with an adapter footprint that houses SC Duplex or LC Quad adapters. These adapters contain their own mounting position that can be accessed inside of the enclosure and secured.
Fiber optic cable: These network cables contain strands of glass fibers insulated by a casing. Their design means they can provide higher bandwidth for users and send data over longer distances. The terminals can accept up to 12 round or flat drop fiber cables. The backside of each terminal houses two input access points for the cables. Additionally, a cutting-edge grommet system ensures that the inputs are tightly secured.
Cost-effective: As both terminals were developed to work seamlessly with OptiDrop™ connectors, they make use of a very affordable product. The design ensures a reduction in the cost and time of drop fiber deployment in a network, so compatibility with a terminal is a must. The OptiDrop™ Connector is bulk fiber friendly, as the field installable connectors make it possible for technicians to craft custom drops out of their bulk fiber. In turn, the bulk fiber saves warehouse and inventory expenses.
Differences Between Optima-S and Optima-T

Both Optima™ terminals are very similar, but they do have a key difference in their deployments. The Optima-S will allow for fiber splicing and drop deployment while also letting mid-entry be performed on the main fiber. Instead of offering these features, the Optima-T takes a different route and gives you end Fiber Tap® deployment.
2. Fiber Tap® Plus Series
The Multilink Fiber Tap® Plus Subscriber Terminal provides for the most flexibility in FTTX networks. It comes specifically designed to be used in a Fiber Access network. It's especially popular among companies that are looking for reliability, a compact footprint and flexibility. You can order it in several configurations, making it easy to find the terminal that matches the needs of your company.
Along with the unique configurations, you can use environmental protected connectors and drop assemblies to make installations of the subscriber drop quick and easy. The housing is re-enterable, giving fiber connectors easy access, which is critical for any field installable system. Additionally, you can use the mounting capabilities for a variety of network designs and applications.
Features of the Fiber Tap® Plus Subscriber Terminal
The Fiber Tap® Plus Subscriber Terminal comes with several features that differentiate it from the competition and makes it a very attractive option:

Port subscription terminals: To meet the needs of your company, the terminals are available with four, eight or 12 ports. Whatever terminal you choose, it will come with either Surelight® Scout Bulkheads or Surelight® IP Bulkheads. Additionally, you'll have the option of one or two feeder ports that will accommodate round or flat drop cable, whether its field installed or factory terminated. Along with the feeder ports, the top of the port displays a port diagram that matches each subscription terminal.
Bulkhead adapters: The Surelight® Scout Bulkhead™ is an industry-leading bulkhead adapter that the Fiber Tap® Plus can incorporate seamlessly. This bulkhead is sure to provide high-quality connections. For an even more cost-effective bulkhead, the Surelight® IP Bulkhead comes with the great quality you would expect from a Surelight® product while being one of the most affordable bulkheads on the market.
Feeder input: The enclosure's design allows for one or two cable input/output ports. These ports can use flat or round drop cable, adding to the Fiber Tap® Plus' versatility. With a central strength member clamp on the base of the enclosure, it can secure the input fiber with ease. The slack management bracket on the base ensures that the fiber is properly routed on the inside of the enclosure.
Mounting: Aerial hanger brackets can be used with the terminal to mount it on a stand along the run. Additionally, the Fiber Tab® Plus can be mounted against a surface completely flush. If a 360-degree mounting system is more what you're looking for, the terminal can be mounted vertically on pedestals or other compact spaces. Its vault mounting functionality also meets IP-68 standards, as it can be used in below-grade applications.
No matter which terminal you choose, you can be confident you have purchased a product that will make your field installable system extremely effective. You only want the best terminals to connect homes and business to a larger fiber optic network. With the Optima™ or Fiber Tab Plus, you will have chosen wisely.
Five Field Installable Innovations

Multilink is consistently looking for new ways to improve our FTTX systems for both the customer and the technician. Our focus on communication technology innovations has produced many new products that can be installed in the field, allowing for better flexibility and cost-savings.
1. Surelight® Field Installable Connectors
The Surelight® Field Installable Connector Series come in a wide mix of options to assist the unique needs of your FTTH systems. The connectors come pre-assembled and pre-polished, which makes it possible to install them on a job site in two minutes or less. As their installation time indicates, they are very easy to handle and make for a simple installation process.
These low loss connectors are known for their reliability. They are available in Single Mode or Multimode and APC or UPC. Size-wise, they come in 900um, 2.0mm and 3.0mm versions for whatever your needs require. Finally, they can be re-used up to five times, adding to their value.
These connectors can be used for a variety of applications:
FTTH
Fiber optic telecommunication
Fiber distribution frame
Optical cable interconnection
Cable television
2. OptiDrop™ SC/APC Field Installable

The Multilink® OptiDrop™ field installable kit is designed to be used with a 3mm single flat drop fiber. With the kit, you'll have all the required parts for an SC/APC connector to use a metal retainer clamp to terminate a flat drop fiber.
It's specially manufactured to cut down on the time and cost of drop fiber deployments in a network. Instead of having to find a specific flat drop fiber that matches, you can use flat drop fibers that you already have on hand. This reduction of cost and time lets you make more repairs or installations on any given day.
The kit comes with all the tools you need to install the connector. As it's both flexible and reliable, you can make fast, helpful deployments within a network. It also allows for quick troubleshooting and the ability to replace connectors fast. To ensure the kit's quality, Multilink has tested it against Telcordia standards.
3. H-IP Field Installable
The Multilink Surelight® H-IP is the market's first field installable hardened connector, and one of the most impactful innovations Multilink has developed. The Surelight® H-IP is an OptiTap™ compatible connector that provides a flat drop fiber solution using a field installable application.
The hardened connector protects connectors from harsh environmental pressures such as adverse weather conditions while maintaining the same reliability that subscribers expect from their connection. Additionally, it was designed with field techs in mind, as it only needs conventional fiber tools that technicians should already have on hand, saving them time in their installation. Along with using common tools, its installation employs a template that details a simple three-step process that ensures consistent quality terminations.
Along with its ability to hold up against the elements and to maintain easy installations for technicians, the hardened connector is compatible with several leading multi-port service terminal manufacturers. The connector can also accommodate round and flat drop fiber.
Benefits of Surelight® H-IP
If you're considering a hardened connector, the benefits to the Surelight® H-IP are unmatched:

Weather resistance: The Surelight® H-IP can resist high temperatures, inclement weather, moisture, humidity and other conditions common to the outdoors. As it is field installable, you can re-connectorize out in the field much more conveniently. Additionally, its engineering lends itself to solving issues like drop damage, connection failure and environmental damage that's easier to solve with field termination.
Better performance: The hardened connector was designed with a more precise fit in mind to enhance the connector's ability and performance. The connector's integrity is much improved as well, as the durable materials that make up the casing protect it. Along with increased protection, its integrity also causes the installation to be much more safe and much less accident-prone.
Save money: The connectors use bulk fiber to reduce inventory and save warehouse space, thus making for more cost-effective fiber. The labor costs also go down, as there is no need for specialized technicians. Any field technician can take care of installing or maintaining the connector. You also will save time and money due to there not being any typical drop replacement construction costs. Finally, there are reduced operational costs coming from its compact size and need for only typical fiber tools.
Quality tested: The durability of the Surelight® H-IP is without question, as it's been tested time and again to hold up against rough field conditions. Multilink is so confident in its toughness that every connector comes with a 20-year guarantee to withstand regular field conditions. Additionally, it's been simplified to ensure that anyone can install it in three steps. This easy-to-understand installation process makes sure that quality is maintained with proper installation constantly achieved.
Environmentally and mechanically stable for OSP applications
TAA compliant
Compatible with our Fiber Tap® terminals
4. Splice-On Connector
A Surelight® Splice-On Connector gives a connection that meets or exceeds the standards of the industry for back and loss reflection. The connector comes with a factory cleaved 900um fiber stub that ensures optimal performance along with of ease of use. With the protection of the specialized 900um boot, the entire splice is secured and concealed. This security makes for simple cable management inside the enclosure or rack.
Since the connector is factory terminated and pre-polished, the termination process is simple as well. All you have to do is undo the cleave protector, then put the connector inside the holder. After it's in the holder, place the holder in the splicer and preload the field fiber. Then you can terminate the connector.
Boot
Cleave protector
Color coded 900um buffer
Extended dust cap
Splice protection for better cable management
Universal holders for multiple fusion splicers
5. Fiber Optic Mechanical Splice
Like other connectors, these fiber optic mechanical splices come pre-polished and pre-assembled and can be installed within two minutes. These mechanical connectors line up a cleaved fiber with its pre-polished stub. To secure the fibers, you can use a wedge, crimp or cam mechanism. You can think of this product as a combination of a mechanical splice and connector end-face, making it one of the most flexible products available.

The fiber optic mechanical splice can be reused up to ten times, and it is compatible with 250um and 900um cables. They come in Singlemode and Multimode along with APC and UPC. Additionally, they also use index matching gel technology to make the installation process more efficient.
The Value of Field Installable Systems
Field installable connectors are key to any top-tier FTTX system. They come pre-polished and pre-assembled, so you'll always be ready for anything a fiber optic network can throw at you. Additionally, using terminals designed for in-the-field repairs and upgrades will provide your technicians and your customers with significant value.
To get the most out of field installable systems, a company should make sure to include connectors and terminals that will complement each other. Either the Optima™ or Fiber Tap® Series of terminals will go well with all of the connectors mentioned previously. They are easy to install and open for any adjustments that you might want to make in the future.
As you consider making field installable systems a part of your fiber optic network, you should keep in mind the benefits these systems will bring to your business. We've put together a list of benefits based on the products that we discussed earlier to show how the combination of them would produce incredible value to your company:
1. Time and Labor Savings

With the simplification of pre-polished and pre-assembled products, field installable systems cut down on the need for specialized labor. Without field installable products, you will need to train technicians or find ones who are familiar with proper polishing or assembling techniques. Using a field installable product allows you to cut down on labor costs, as additional training or specialized technicians will not be required.
Another benefit to not having to use specialized labor is the savings in time that come with it. No longer will your technicians have to spend time at the job site assembling or polishing connectors before installing them. Instead, the process is streamlined so any technician can take on the job, regardless of if they've had specialized training. As the process is so easy, you'll be able to move through installations and upgrades at a much faster rate than ever before.
2. Cost-Effective
Along with saving the time of your technicians and allowing you to reach more homes or businesses on any given day, you will also save money with field installable products. You will not have to pay for specialized tools to install the products, helping to reduce the cost of outfitting technicians.
Along with reducing equipment costs, you'll be able to cut down on material costs that would come from misoperation of tools or products during the installation phase. Since field installable products are so easy to use, you won't have to worry about extra costs that come from user error. Multilink also prides itself in producing affordable field equipment options that provide high-quality service at a low cost to you.
3. Consumer Satisfaction
Whenever something goes wrong in a fiber optic system like a connector malfunctioning, you want to be sure that you can react to it with speed. As consumers rely on their FTTH systems for their entertainment, work and personal needs, a disruption in the network can be a major inconvenience. While things are bound to go wrong occasionally, but you can be prepared to meet the challenge.

Field installable products will make repairs and replacements a quick process that your customers will appreciate. Additionally, you'll be able to roll out upgrades to your system faster, which will provide your customers with the most up-to-date broadband connections on the market. Staying on top of the most recent technology and being able to react quickly to malfunctions will cause your consumers to express higher satisfaction with the services you provide.
4. Keep up With the Newest Technology and Consumer Demands
As companies continually improve and upgrade FTTX systems, you'll want to use products that can keep up with the changes. We're always on the lookout for ways we can innovate, so our field installable products are designed to accommodate change with ease and are open to being upgraded on the spot.
Along with staying current with technology, they also can be quickly adjusted to meet the demands of consumers. For instance, maybe some of your customers want to upgrade their network's capabilities, but this upgrade will require a technician to adjust the terminal or the connectors. With field installable technology in place, you can react to their needs quickly and provide top quality service.
Find the Field Installable Product That Meets Your Needs With Multilink
If you're ready to start using field installable fiber optic innovations, Multilink's telecommunications products will take your company to the next level. We focus on providing only the most current network solutions for a vast assortment of FTTX applications.

With a quality program that evaluates all of our products for criteria based on the ISO 9000 Series Quality System Standards, you can be confident that you will receive only the best field installable products that are durable and effective. Our quality department is always improving the Quality System so the products and services Multilink offers exceed customers' expectations every day.
Speak to a representative today to discuss how Multilink's field installable telecommunication innovations can revolutionize your fiber optic network.
Back to Multilog